Want to buy some sweet, sweet merch?
For now, the best way is to pop along to one of Andy's gigs, where you can find some bits and bobs for sale.
Read on to find out a bit more about some books that Andy wrote.
Books
The Gig Delusion
The sequel to Stand Up and Deliver, The Gig Delusion is a laugh-out-loud novel set against the backdrop of the UK comedy circuit. Ambitious comedian Andy wants Carlos as his agent. He also wants Betty as his wife.
Carlos sets Andy the challenge of performing a comedy gig in every English county in 10 weeks. Betty challenges Andy to be a focused, devoted husband-to-be as they prepare for their wedding in 10 weeks' time.
Suddenly the two loves of Andy's life are in competition. Who will win
"A tremendous book." – James Cary, Writer of Bluestone 42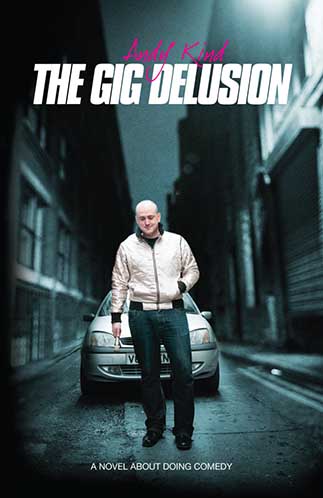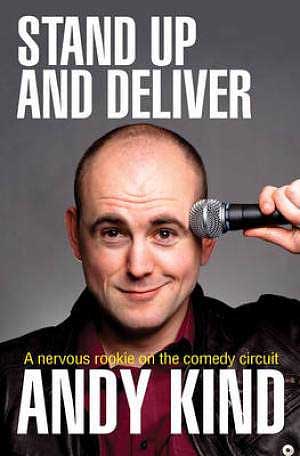 Stand Up And Deliver
In March 2011 Andy published his debut book, 'Stand Up and Deliver'.
" A highly entertaining account of a young man's first year as a rookie comedian. The book starts with Andy's first ever attempt at stand-up, and we then follow him through the next twelve months, encountering the giddying highs and excruciating lows of life on the comedy circuit.
Full of joy, laughs, tears and weirdos, it is more than simply a diary about doing comedy. It is, more importantly, a tale about what happens when someone tries to follow their childhood ambitions and realise their deepest hopes."
"Totally unputdownable and our book of the year!" – Sorted Magazine
"A funny and very honest book. I laughed out loud. It left me wanting to know more." – David Nobbs (creator of Reginald Perrin)
"Meticulously accurate, entertaining, surprisingly moving. Kind projects an accessible, warm, upbeat demeanour that makes for an easily enjoyable read." – Chortle.co.uk